How It Works
Reporting and Tracking
Simple graphs.
Forget about tables and graphs that are impossible to read, Orca presents your results in an easy-to-understand way.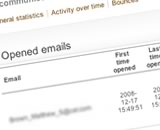 Track who's viewing your message.
Find out which recipients have opened your e-mail or unsubscribed, as well as which messages bounced.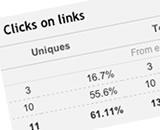 Find out what's been clicked within the message.
Orca takes tracking to the next level by letting you know what recipients are clicking on within the message.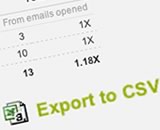 Export data to Excel.
It's easy to keep your Excel database current, because Orca lets you export all of your data to Excel.
Features

Find out more about our pricing options.

Sign up for your Orca account today!